Workplace evaluations and problem-solving
Dan is widely recognized for his
energetic and empowering
training sessions.  Dan's presentations typically focus on
innovation and creativity
in addition to the technical issues of ergonomics.  Increased efficiency is also a recurring theme.  The core of training is based on the 10 principles of ergonomics .  On-site training usually involves classroom presentations in the morning followed by hands-on practice on the workplace floor in the afternoon.  Sessions are tailored for groups ranging from senior management to professional engineers to employee committees and teams.  See more details on training services..
In most organizations, the ultimate goal is to efficiently integrate the ergonomics process into day-to-day work life.  Dan helps you determine the best way to set and meet your goal using the full strength of your organization's culture and current initiatives.  See sample activities.
Customized training materials
Dan's generic training booklets are easy to customize to make them your own.  You can also license sections of his full length books to include in your corporate manuals.  See examples of customized materials projects.
Industry-wide support and complex organizations
Most projects usually involve site visits, but sometimes Dan can provide remote support, such as by
reviewing videotapes
of your operations, then discussing issues and options by videoconferencing or ordinary telephone calls.
Product design and evaluation
Dan is an engaging and motivational speaker.  Conference presentations can focus on broad topics such as innovation and organizational change using his personal experience with ergonomics.
Please contact Dan for more information at (570-242-4664) or
dan@danmacleod.com
.
"Buyer's Guide:" Things you need to know before
hiring an ergonomics consultant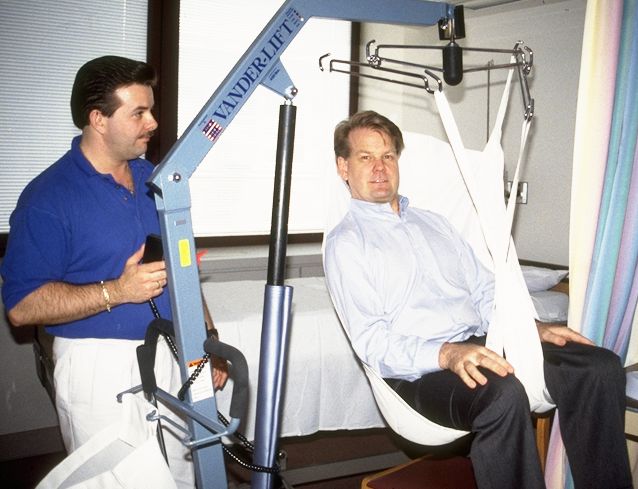 Dan in action testing a hospital patient lift.